About Us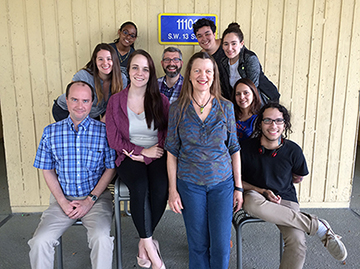 The Infant Development Lab is directed by Dr. Lorraine E. Bahrick, Professor, Department of Psychology. We conduct federally funded research on early child development. A number of undergraduate and graduate students, post docs, and staff members participate in our research in the areas of perceptual, cognitive, and social development in infants and young children of both typical and atypical development.
We are located at FIU's Modesto A. Maidique Campus (MMC) in DM 115. The Infant Lab is part of the Department of Psychology and affiliated with the Center for Children and Families (CCF) at Florida International University.
Since the lab's establishment in 1984 more than 12,000 babies ranging in age from 2 to 12 months have been tested as well as several thousand children from 1 to 6 years of age. We typically conduct a variety of different studies simultaneously, each designed for infants or children of a specific age. Results of our studies are published in scientific journals and have revealed exciting new findings about how and what babies learn about the people and objects in their environment.
If you have an infant or young child and wish to participate in one of our studies, please visit our page For Parents, call us at (305) 348-2842, or email us at babylab@fiu.edu to learn more and to schedule a brief visit at your convenience!
For students interested in research training, please visit our page for For Students.
For a photo tour of our lab, please click the following link: Tour Our Lab